Shingle Roof Contractor, Croton-on-Hudson, NY
A Quality Shingle Roof Delivered For Your Home
GAF, CertainTeed and Davinci Roofscapes certified shingle roof installers in Westchester County
Your New Shingle Roof Will Transform Your Home!
The stunning design potential is one of our favorite parts about shingle roofing systems. They're affordable, versatile and offer a host of colors, shapes and features to make your home pop.
Our roof design specialists work with you to turn your vision into reality. Then, our highly qualified roof installers deliver a superior quality roof.
Asphalt shingles offer potential to create any look, all at a great price. We can do safe and practical. Or, we can dazzle your neighbors with an unexpected new design. 
Your Shingle Roof Should Make Your Home Stand Out From The Crowd
Our Shingle Roofing Services
Certified Installers of Premium Shingle Roof Systems
What is asphalt shingle roofing?
Asphalt shingle roof systems are composed of a blend of asphalt and minerals. For that reason, asphalt shingles are also called composite shingles. The asphalt blend sits on top of a mat. Then, the shingle is sealed with protective coatings. Asphalt shingle coatings add water proof, fire proof and UV light resistant qualities to your home.
Shingle Roofs in Westchester County
Traditional shingle roofs are the most popular choice for residential roofs in the Westchester County, NY. These shingles offer versatile design options for your home. Asphalt shingles also come in at the perfect price point for most home owners.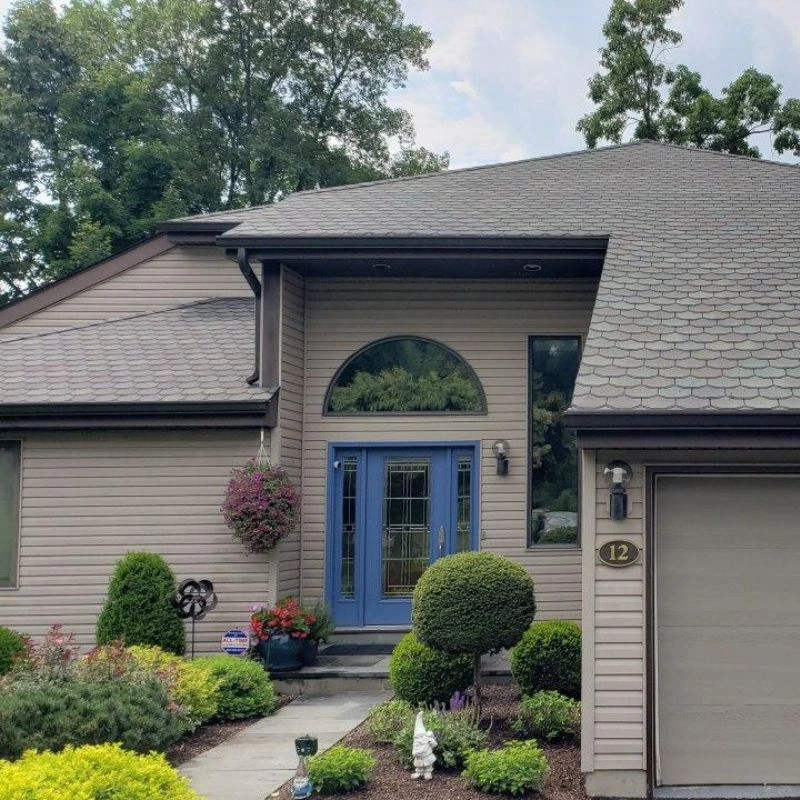 Why is Asphalt Roofing So Popular?
Benefits of Asphalt Roofing
Asphalt Shingle Roof Design Options
Composite shingles come in a variety of types and colors. In addition, asphalt shingle roof design options are never ending. While the cost of asphalt roof shingles vary, you can get the look you want with any budget. 
You can give your Westchester County home a breath-taking look, at a price you can handle.
3 types of Shingle Roofing Systems
The more affordable 3 tab shingle (also known as three tab shingle) style for sloped roofs will last you about 10 to 20 years. Three tab shingles are rated to withstand winds up to 70 mph. 
The safer option is the Dimensional, or Architectural Shingle. Dimensional shingles last about 15 to 25 years on average, but often 30 years or more if you keep up with your roof and gutter maintenance. Architectural shingles can also withstand winds up to 110 mph.
The third type of asphalt roof shingle is the luxury shingle. These roof shingles offer premium durability, and endless customization options.
Westchester County's Asphalt Shingle Roofing Authority
The quality of a shingle is just as important as the quality of the installation. That's why you must work with a qualified asphalt shingle roofer in Westchester. 
There is a reason why shingle roofs are so popular in Westchester and Putnam County, NY. Affordability, durability, versatility and variety makes composite shingles a great option for your roof. 
However, if composite shingles aren't made well, your roof won't last. 
When reviewing an estimate for a composite roof replacement or installation, ask your contractor about the shingle manufacturer. 
Recent Asphalt Shingle Roof Projects
Elite Roof Installers Need Elite Shingle Manufacturers
Both GAF and CertainTeed make an excellent composite shingle. We demand the best, especially in the Hudson Valley. With all the changes in weather, homeowners like you need a tough roof shingle. You need peace of mind. 
GAF Certified Weather Stopper Roofing Contractor
CertainTeed SELECT ShingleMaster
DaVinci Roofscapes Masterpiece Contractor Program
Simplify Your Shingle Roofing Project
Request your free estimate to start your residential & commercial roof replacements or other exterior contracting work. Just answer a few quick questions, include a photo if you'd like, and we'll be in touch to answer any questions you might have.