If you're tired of being frustrated when searching for a contractor, we have that in common.
If you're like me, your family and your Westchester County, NY home are important.
Even as a roofer and exterior contractor myself, I have a hard time looking for reliable contractors to work on my home.
When I need to hire someone to do work inside my home (we do exterior), it's not easy.
Did you know that there are over 80 contractors listed on the Westchester County Consumer Protection Departments Renegade Renovator list?
It's stressful asking yourself, who is the best roofer near me?
But…
It doesn't have to be. Contractors are supposed to be there to help you solve your problem. Not make it worse.
The after has to be better than the before! You need simple solutions to your problems.
With so much information at our fingertips, it should not be that difficult to hire someone that cares about your project.
You need a reliable, qualified local roofing company that keeps your family safe during your roof replacement or repair.
Unfortunately, it's not always easy to tell the honest, experienced roofers from the dishonest, unqualified ones.
With over 370,000 homes in Westchester County, NY, there's no shortage of roofers chomping at the bits to replace your roof. Over 200,000 of those homes are owner-occupied.
That means not only does your roof provide your family shelter, but it protects one of your most expensive possessions, your home.
I know how to help you find a reliable roofer that takes care of your roof. So I want to share a few tips.
More importantly, we want to help you find a roofer that will keep your family and your finances safe and secure.
There are some things that are more important than our profits….
There are things that are more important than beating our competition….
So please, if you find this helpful, share it with your family, friends and other contractors you work with. No matter what roofer you hire, you'll be able to have confidence in your choice if you follow our advice.
These questions are going to help you find a roofer, or really any local contractor, that puts you first.
But first, why is hiring a reliable roofer so important? There are a lot of things that can go wrong.
What is the cost of hiring the wrong roofer near me?
Before you search the popular phrase, roofer near me, learn how to spot the best roofers in and around Westchester.
Hiring an unqualified contractor to replace your roof can be a financial disaster.
According to HomeAdvisor, a roof replacement is one of the top 5 most expensive home renovation projects. When installed by a qualified roofing contractor, your roof will last. Paying for quality is the better decision.
On the other hand, choosing the wrong roofer for your project may lead to financial ruin….
Not only can shoddy roofing work hurt your wallet, but financial strain can lead to stress and other family problems.
It's about time qualified roofers come together and take a stand to help you avoid that.
What is the average cost of a Westchester County, NY roof replacement?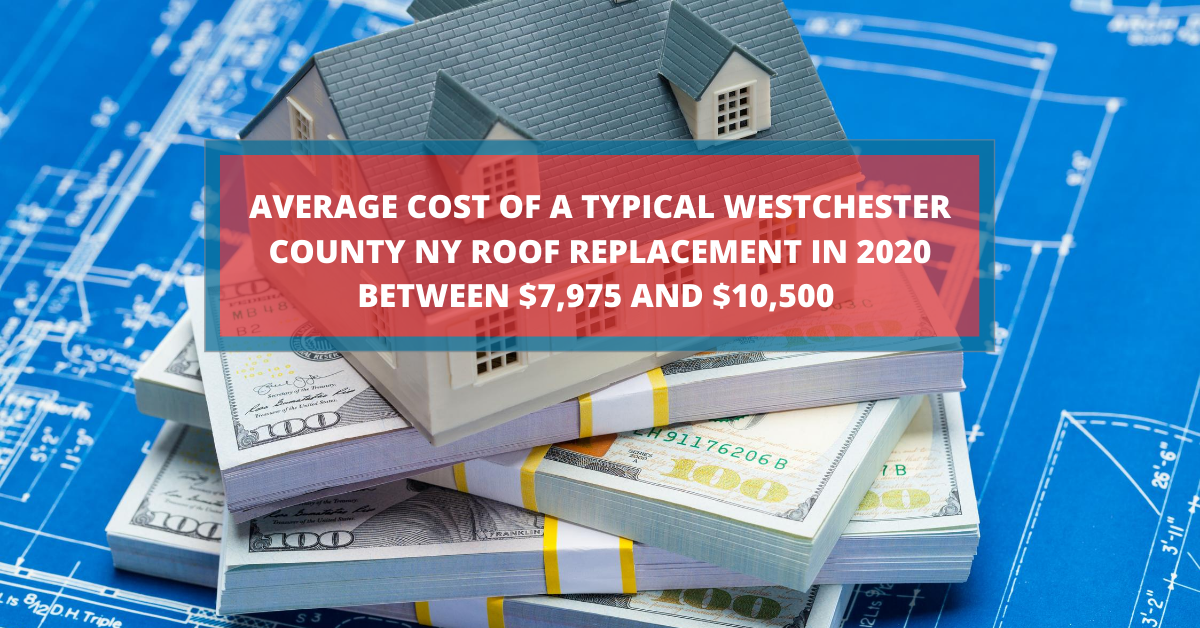 You've probably asked yourself, how much does it cost to hire a roofer near me? Many factors impact the cost of a new roof installation or a roof replacement.
The type of roof, size of your home, and history of your roofing material are just some of the key factors.
For example, according to Fixr.com, in 2023 the average cost of a quality shingle roof replacement for a home in Westchester is between $7,975 and $10,500.
However, for many homes in Westchester and Putnam County, a roof installation can cost more (or less). It really depends on the size of your roof, the slope of your roof and the material you use.
That's why it's so important to get the job done right, the first time. If you have to hire a second roofer to come in to fix the job, that cost could double!
Did you know complaints against roofers are among the most common consumer complaints?
I was fortunate enough to have some incredible mentors that taught me how to deliver quality roofing at an affordable price.
The best roofers in Westchester, NY and the surrounding area strive to exceed your expectations as a local homeowner. Each qualified roofing contractor might have their own way of doing things.
But…
…we all have one thing in common.
We understand the value of building long-term relationships in our community. To do that, we have to deliver you a superior roof, and excellent customer service.
The best roofers use high-quality materials for your roof. They offer transparency during your roof replacement project, and deliver quality.
The problem is, the shoddy roofers know how to blend in with the crowd. For you, and your family's home, the result is a much too common catastrophe.
According to the 2018 Consumer Complaint Survey Report, the home improvement and construction industry was the subject of the second highest number of consumer complaints from people like you.
As local roofers, our customers in Westchester County and the surrounding area are our neighbors. We understand how important your home is to your family, and want to do everything we can to help you protect it.
As community business leaders, it's our job to arm you with the information you need to protect your most precious assets. Your family, and your home.
Who is the best roofer near me in Westchester County, NY?
You're searching hard for the best roofer near me. Lots of small businesses will say they're the best, but isn't it really up to you to say?
We do what we can to earn our reputation as one of the best roofers in our community. But, we prefer to let you judge for yourself.
It's naive when a roofing company tells you to trust them, when you don't even know them.
As a local, family run roofing company, we get it…
So instead of telling you to trust us, we give you the info you need to make your own decision.
Reviewing qualifications, photos of recent work, online reviews and a roofer's online reputation goes a long way in selecting the best Westchester roofer for your family's home.
We like to show you that you can trust us.
The best roofing companies focus on building long term relationships in Westchester. Word of mouth is still the best way for roofers to get new business. So it's a win, win for both of us.
You need a roofer that gives you an honest assessment about your roofing needs.
A roofer that cares about you should help you find the perfect balance between quality and affordability. They should perform an expert installation (including what you can't see) and guide you through the process until your roofing project is finished.
By making you happy, we hope you might tell a friend about us, or use us again in the future.
Learning which questions to ask yourself, and your roofer, before signing on the dotted line will help ensure you only entrust qualified, honest roofers with your family's home.
Ask any roofing contractor you are considering why they think they are right for the job. It should be clear that they have thought about their answer before.
Your roofer should clearly communicate the value they can deliver above other Westchester County licensed roofers. If they can't, find a roofer that can.
You searched for a roofer near me in Westchester County, NY, but now what?
It isn't always clear which roofer companies are honest, qualified and reliable.
Asking these 9 simple questions will help homeowners like you hire a roofer that will protect your family, and your home.
Time to Read 12 minutes
Should I give a down payment?
It's common to provide a down payment before a roofer company will begin working on your roof replacement.
Many of the reputable roofers you see after you search for a roofer near me will be reasonable, so talk your roofer and come up with an amount that makes sense.
Financially sound roofers will have credit with their vendors and shouldn't need all of your money to buy materials. However, it is a big undertaking, that can be costly for roofing contractors if the homeowner tries to back out after they start working on a project. So a down payment of 1/3, or potentially 1/2 of the job cost is not unreasonable.
A down payment is fair, but it should be a reasonable amount.
If you're undertaking a big roof installation project on your Westchester County, NY home, before you give any down payment do some additional checks on any roofers you are considering hiring.
Before you trust a roofing company in Westchester with a large down payment, make sure they are worthy. Search the roofing company through Westchester County's liens and court cases database.
If a roofing company is in poor financial condition, your money may not be safe. Always pay the roofer using a check, or another traceable payment type.
Avoid large amounts of cash without a signed receipt, and always sign a contract before making your down payment.
Homeowner Protection from Shoddy Roofers
In 2019, Westchester County, NY homeowners got a big win when NYS took a stand against roofing scams. Governor Cuomo signed a new bill, S1405/A7531, putting new protections in place for New York homeowners like you when working with residential roofers.
The industry is realizing that homeowners are falling victim to unqualified, unlicensed roofers masquerading as professionals.
It's easy for anyone to pop up a website, if homeowners in Westchester and the surrounding area don't know the right questions to ask.
The bill gives you additional defense against dishonest roofers. When you go to Google looking for a roofer near me, you're looking for a reliable roofing company.
New York State is doing more to make sure whoever you hire will deliver a quality roof. Some parts of the bill will also help protect you when working with a roofer.
In my opinion, some of the highlights include:
Giving you more time to cancel a roof repair contract
Making kickbacks for insurance claim referrals illegal
Preventing a roofer from walking away from a roofing contractor job without cause
This new NYS homeowners rights bill can only offer the maximum benefit if you understand your rights as a Westchester homeowner. We recommend you review the bill before working with a roofer.
What are red flags of a dishonest, unqualified roofer?
In addition to the 9 questions you should ask before hiring a Westchester County roofer, be on the lookout for the following red flags.
For this part, we put our heads together again with a local Certified Fraud Examiner, certified by the ACFE. These fraud examiners are experts in various areas, including consumer protection.
So, who better to weigh in on the advice we're giving you. Here's what Joe Darragh, CFE had to say about additional red flags to look out for.
Roofer companies that use high pressure sales techniques
A roofer that can't answer simple questions about why they are making a recommendation to replace your roof
Roofing companies that demand cash payments only
A Westchester County roofing company that needs money from you to buy your roofing materials
Roofers who refuse to give you a contract in writing before begin to work on your project. Any contract above $500 between a home contractor and a homeowner is required by law to be in writing.
Roofing companies in Westchester that are priced so low it's too good to be true
Roofer companies that are unresponsive for days when you're trying to schedule an estimate
The Westchester County Department of Consumer Protection also has a comprehensive pamphlet available online. It's an amazing resource that has some great information.
Are there any other questions to ask a roofer near me in Westchester County?
This really depends…
If the roofer you are considering has been around for at least five years, has no consumer complaints against them, is fully licensed and has a strong online reputation, the 9 questions I outlined above should be enough.
But…
…it never hurts to ask. Especially, if you are considering working with a new Westchester County, NY roofer. Here are some more questions to ask.
Additional questions to ask your roofer company:
Will you be tearing off my old roof, or shingling over? A roof should have no more than two layers of shingles
What type of roofing underlayment will you use on my roof? Why?
Will I have to replace the plywood under my roof shingles? If so, or if the roofer isn't sure, agree on a price beforehand in the event you do need new plywood
Which kind of metal will your roof flashing be fabricated from? There are many types of flashing, some work better than others. We suggest using a metal flashing. Nothing beats the look of copper roof flashing on a beautiful new roof
Can the roofer near me verify their qualifications and certifications?
This is a common question we get from homeowners in Westchester and Putnam County, NY. For good reason.
To make your job easier when looking for a roofer in your area, a company should tell you everything there is to know about them.
But, your time is also important. So, they should do it in a clear, simple and easy format. You shouldn't have to dig around the entire world wide web to find some basic info on a local contractor.
That's why we put together the MCAS Roofing & Contracting, Inc. Trust Guide.
It's our way of helping you see all the reason we believe we are worthy of you considering requesting a Free Estimate for your roofing project.
Ask the roofer you are considering if they have something similar.
What should I do if a roofer near me rips me off?
Our hope is that after you read this, you'll have the knowledge you need to avoid being ripped off by a Westchester roofer company.
We're continuing to build out our Education Center to help homeowners like you in our community.
We also put together a handy Free Home Renovation Estimate Checklist for you to download and use. It helps you compare the three estimates we recommend you get from Westchester County roofers.
This is an essential step before hiring any home contractor for the first time. If you still have questions, let us know. We're here to help you protect your family's home.
Seriously, what if I do get ripped off by a roofer near me?
Even though you're a smarter homeowner now, and better equipped to spot unqualified roofer companies, some are better than others at hiding their true intentions.
We're not legal professionals, and this isn't legal advice. So, if that does happen you should file a complaint with the Westchester County Department of Consumer Protection and consult your attorney.
Then, follow the advice of the professionals.
Anything else Westchester County homeowners should know?
The purpose of these 9 questions to ask before searching for a roofer near me isn't to scare you.
It's to educate you, so you understand the right questions to ask to protect your family's home.
Remember, most roofing contractors in Westchester County are reputable, honest roofers that deliver quality work. It's up to professional local roofers and contractors to help you spot the few bad apples in the bunch.
We'll continue to help answer any questions you might have, so check out our Hudson Valley Homeowner Learning Center.
Good luck, keep your home safe, and let us know if there is anything we can do to help.